Outstanding Women in Engineering 2021 Award Winners
This year, five spectacular graduating seniors were recognized as Outstanding Women in Engineering at SWE's Evening with Industry. The winners are: Mahima Choudary, Jennifer Kandell, Karina Camp, Claire Luce, and Megan Campbell. 
Meet the Winners
Mahi Choudary
Software Engineering
Mahi's extensive internship experience includes Applications Security Intern with Kaiser Permanente, Software Engineering Intern at Chevron, and most recently a Program Management Intern with Microsoft, a permanent position that she will continue upon graduation. While completing her degree in four years, she has been a passionate mentor on campus and in the community. She is an ambassador of Built-By-Girls, she is Mentorship Director with WISH (Women in Software and Hardware) club, she has also been a Cal Poly WOW Orientation Leader and Recruitment Director in Cal Poly's engineering sorority, Alpha Omega Epsilon.
Jennifer Kandell
Biomedical Engineering
Jennifer has excelled academically, maintaining an extraordinary GPA of 3.8 as an undergraduate and 4.0 throughout her graduate studies. She has held seven cumulative officer positions in SWE, the Society of Hispanic Professional Engineers, and the Biomedical Engineering Society. Additionally, as the Cal Poly Bio-Imaging Lab Manager, she was instrumental in contributing to the labs research goals and training incoming lab students. Currently she is completing a 9-month on-site internship at Thermo Fisher Scientific on a project to characterize modified immune cells, which can be used for cancer cell therapies.
Karina Camp
Industrial Engineering
Described by her faculty nominator as "one of best students I have met in 17 years at Cal Poly", Karina has excelled both inside and outside the classroom, and her involvement in campus organizations is extensive. Including currently serving as President of Institute of Industrial and Systems Engineering Club as well as IMPACT Chair for Engineers Without Borders. In addition to working as a Teaching Assistant at Cal Poly, her work experience includes internships at Viasat, Atlas Copco, and Pro-tiviti where she will begin her career after graduation.
Claire Luce
Aerospace Engineering
Claire who is graduating in 4 years, with a 3.85 GPA, is described by her department chair as "demonstrating a level of maturity and concern for her fellow students that is rarely seen". Claire has been an active volunteer in Cal Poly SWE since her first year on campus and for the past two years has served as Chair of the Aerospace Department Student Fee Committee. Furthermore, she is a four-year member and current team leader for Project Mobius, a Cal Poly team working on a project to design and fly a 24-hour autonomous solar plane.
Megan Campbell
BioResource and Agricultural Engineering
Megan Campbell has made the Dean's list every quarter while remaining on track to graduate in four years Megan has also co-founded a Cal Poly club to promote the engineering side of sustainable farming - with a focus on automation of indoor farming systems and more efficient ways to grow crops and reuse waste. For the past two years Megan has served as President, leading the club through the design and creation of a climate-controlled room to house multiple aeroponics units. Megan also has impressive professional experience including her contributions as a Water Conveyance Engineering Intern with Jacobs Engineering for the last two summers and the Irrigation Training and Research Center on the Cal Poly campus.
Evening With Industry
Evening with Industry, a SWE event, starts with a networking session where you can connect with several company representatives and industry members. After networking, you have a dinner with the company of your choice for a more in-depth conversation, a delicious dinner, an inspiring keynote speaker, and awards and scholarship presentation.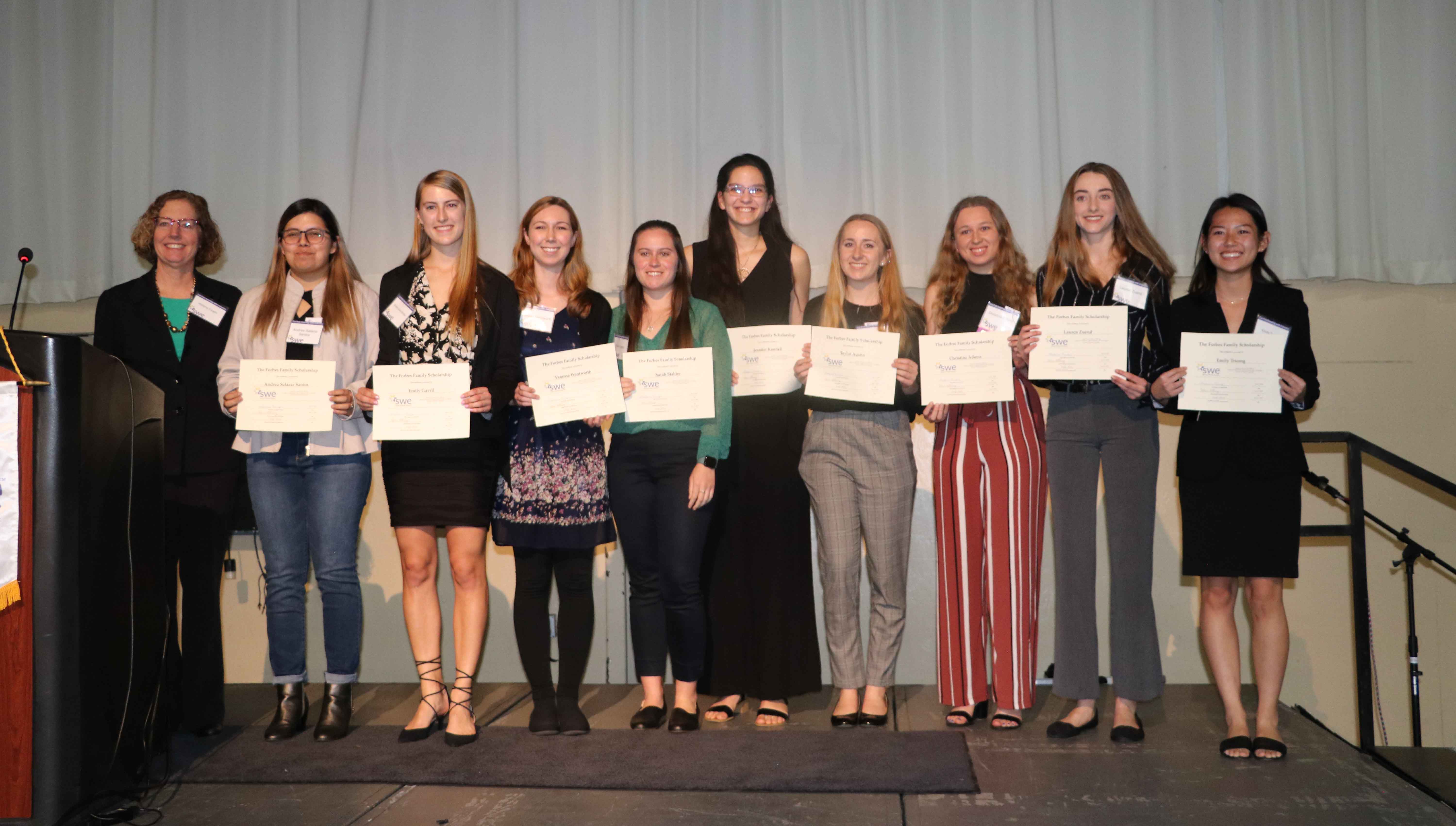 Related Content