Outstanding Women in Engineering 2023 Award Winners
This year, five spectacular graduating seniors were recognized as Outstanding Women in Engineering at SWE's Evening with Industry. The winners are: Evelyn Zendejas, Anna Reid, Sindhu Srivats, Vanessa Veto, and Bonnie Brown. 
Meet the Winners
Evelyn Zendejas
Civil Engineering
Evelyn not only has excelled academically at her time here at Cal Poly, but has had many notable work accomplishments, such as being describes as one of th emost outstanding student shop techs. She has an impressive and diverse range of leadership activities at Cal Poly. Evelyn has served the Society of Hispanic Professional Engineers (SHPE) for the last three years and has held: Academics Chair, Public Relations Chair, and currently Treasurer.
Anna Reid
Computer Science & Computing for Interactive Arts Minor
Anna is currently serving as Co-executive Director for Hack4Impact Cal Poly, an organization that works with local nonprofits to design and build software to support their operations. Through her current and previous roles (as Director of Finance and Director of Community) she helped to grow Hack4Impact membership from approximately 20 to 105 members that now support work with 7-9 nonprofits each year. Anna also co-founded the Cal Poly Animation Club and worked as VP for the past 2 years. Through weekly meetings, she leads students in creating animated short films, and learning animation principles. She has also had incredible internships with AT&T, Adobe and her dream job at Walt Disney Animation Studios, where she worked this past summer as a Software Engineering Intern. All this while maintaining an incredible 3.935 GPA.
Sindhu Srivats
Computer Engineering
Sindhu's numerous accomplishments span a variety of areas. On the national level, Sindhu and her Cal Poly team placed 1st in Cisco's National Supply Chain Case Competition for their research and presentation on the benefits of 5G technology, and how it can be used to enhance Cisco's supply chain organization. Her leadership at Cal Poly includes holding officer positions in Women Involved in Software and Hardware (WISH) for the past three years, being Treasurer for Color Coded, and Director of Outreach for the Cal Poly Robotics Club, where she is also an active member in the Underwater Remotely Operated Vehicle project. Taking advantage of networking through WISH, Sindhu has secured internships every summer since starting at Cal Poly. After her first-year, she worked at General Atomics Aeronautical Systems Inc.. And each of her next two summers she had internships with Qualcomm where she created two internal tools that are currently used in multiple teams.
Vanessa Veto
Industrial Engineering
Vanessa has earned an incredible GPA a 4.0 cumulative GPA, while she became the president of an engineering club (the Systems Optimization Club). She has also had two incredibly impactful internships at Stryker as well as research experience as part of Cal Poly's Summer Undergraduate Research Program (SURP).
Bonnie Brown
Manufacturing Engineer B.S. & Engineering Management Masters
Bonnie is in a blended program pursing a bachelor's degree in Manufacturing Engineering and a master's degree in engineering management. She has held SWE officer roles and co-founded and co-lead one of Cal Poly's newest clubs: oSTEM (Out in Science, Technology, Engineering, and Mathematics). This Cal Poly chapter of oSTEM is part of the national oSTEM organization that supports queer people in tech. In its short time on campus, Bonnie has helped lead Cal Poly's oSTEM in becoming an integral part of the college's support of individuals from diverse backgrounds to create an inclusive and welcoming environment. An accomplishment that was recognized this Fall, when Cal Poly oSTEM was awarded the Rookie Chapter Award at the national conference in Boston.
Evening With Industry
Evening with Industry, a SWE event, starts with a networking session where you can connect with several company representatives and industry members. After networking, you have a dinner with the company of your choice for a more in-depth conversation, a delicious dinner, an inspiring keynote speaker, and awards and scholarship presentation.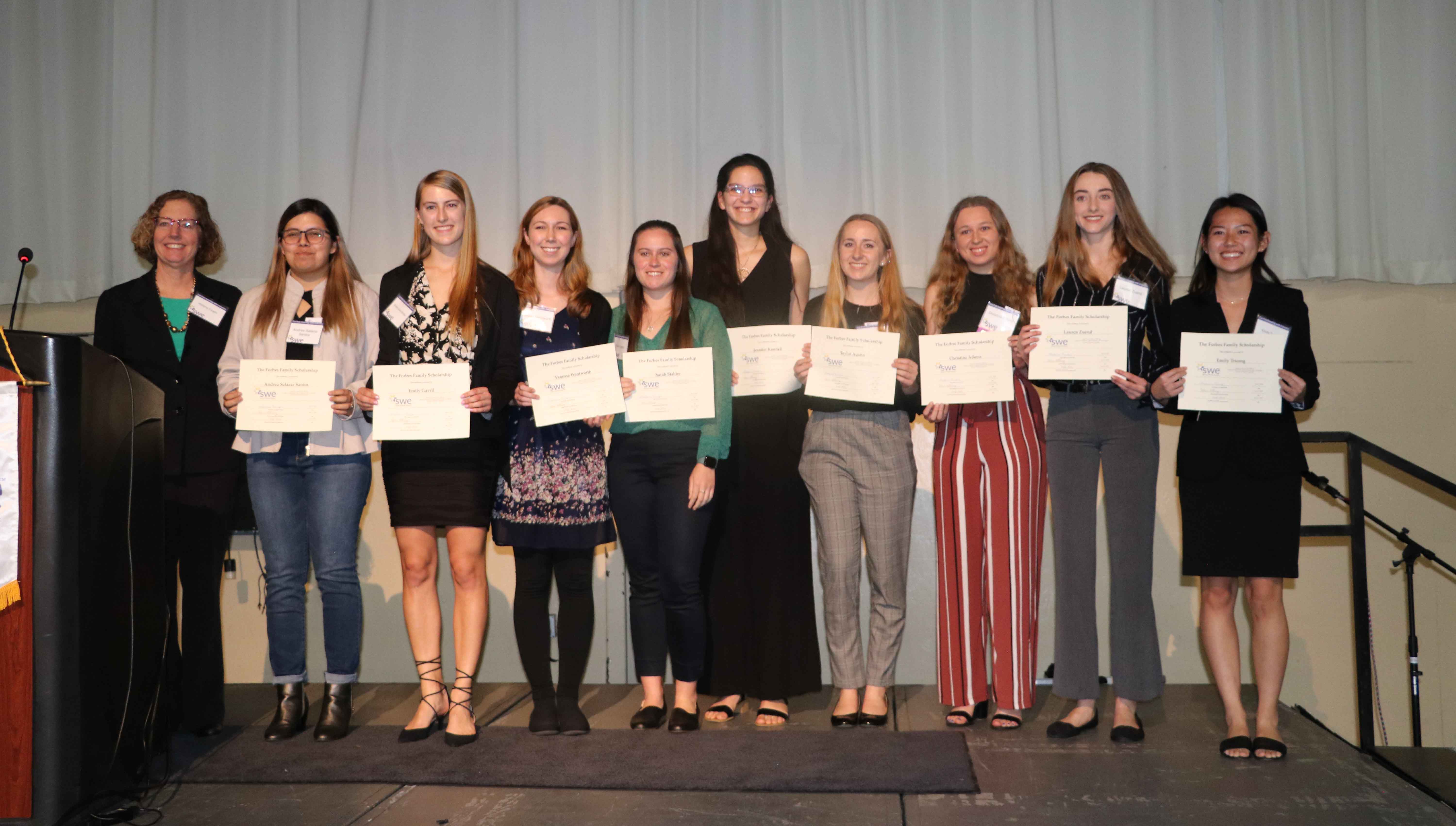 Related Content